Having a baby can be one of the most exciting and life-changing experiences you could ever have. Even though you spend the whole nine months planning and preparing for life with Baby, it is often times so different than you had planned for, in more aspects than one. The delivery might not go as smoothly as you'd like, you may be way more exhausted than you imagined, and in the midst of it all, your marriage can struggle. John Gottman, a well-known marriage guru, stated that "67% of new parents experience conflict, disappointment and hurt feelings" during the transition to parenthood (The Gottman Institute, 2019). Despite the fact that all of your energies are being focused on caring for your new bundle, it is also a crucial time to focus on your spouse.

You might be thinking, "I already have so much to do right now! How am I supposed to add that to my plate?!" It may seem impossible, but the marriage relationship is the most important one in your family. Keeping your marriage strong will provide a good foundation for the rest of your family to be built upon. In order to build a strong foundation, you need to continually foster your marriage, especially during challenging times such as when you bring your new baby home. It may be the only thing that will help you combat the struggles that you may face, such as sleep deprivation, postpartum depression, feelings of inadequacy, breastfeeding, and postpartum healing. Here are 8 ideas to help keep your marriage strong after you bring a new baby home!

1. Go on a date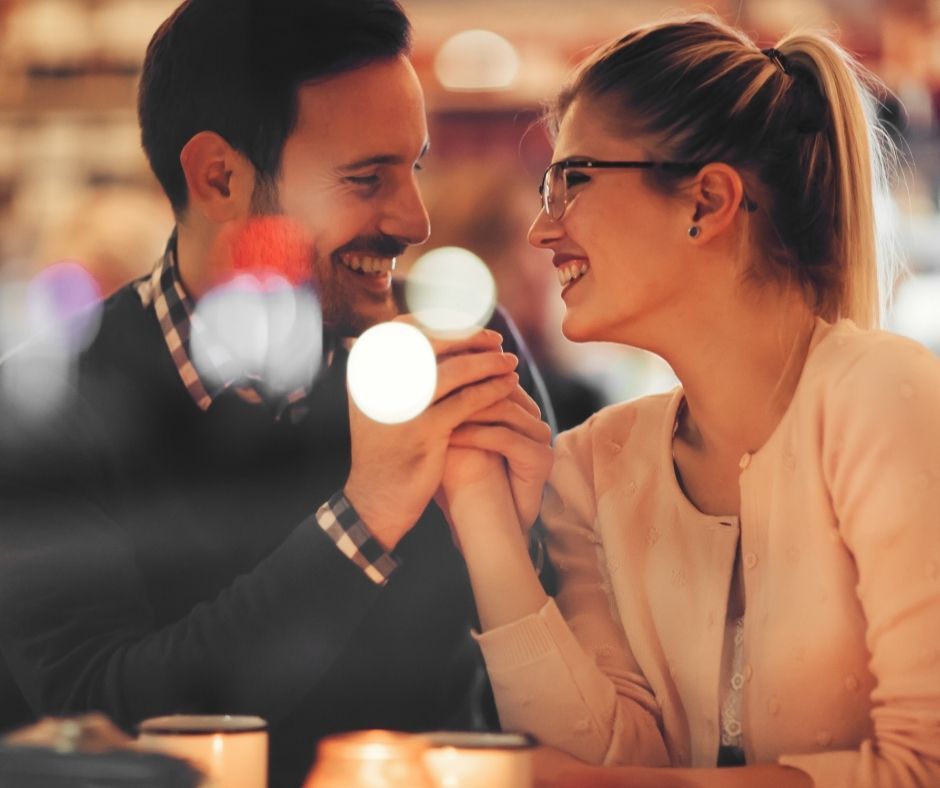 This may seem absolutely impossible with the demands you are facing right now. However, one of the best ways to strengthen your marriage is to do the things that you did when you were beginning your marriage relationship. Go on a date to your favorite restaurant. Go on a picnic. Go get an ice cream come together. Going on a date does not have to be an elaborate adventure, especially if you are leaving baby behind and don't want to be gone too long. As long as you are setting aside time at least twice a month for a date night, that is all that matters. Going on a date weekly would be absolutely ideal, though it is not always practical. Once a month is too far in between. Twice a month is the perfect medium to balance the rest of your responsibilities while still keeping your marriage a priority. The key is to have time to focus on each other, and only each other, to keep your marriage in focus. You may need to get a babysitter for an hour, but that is plenty of time to gobble an ice cream cone or go on a walk. Remember the things you did to court your spouse, and do them again. Fellas, open her car door when you leave. Girls, flash a flirty smile at your man. The simple things will keep you invested and remembering why it is you got married in the first place. Be creative with your date nights! Some of the craziest ideas will be the most fun for you and give you the most security during this time of change.

2. Designated Talk Time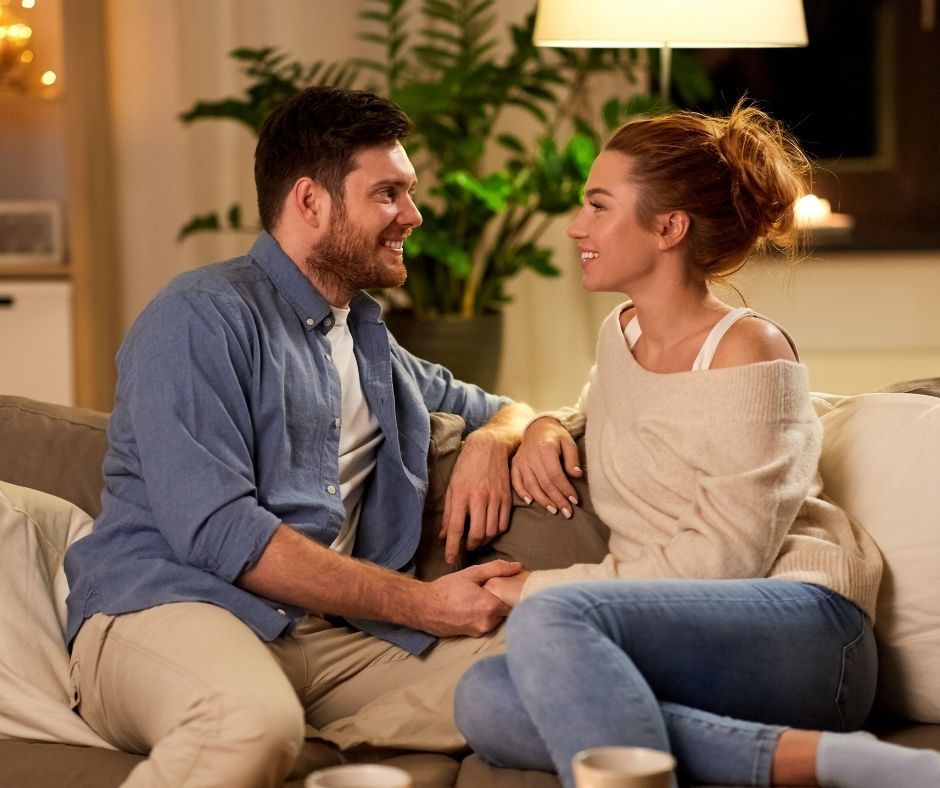 It is SO important that you set aside a designated time to communicate with your spouse. Talking is a strong form of connection, and it could be what holds your marriage together during the rough days with a new baby. Having time to talk to each other opens opportunity for you to express your feelings, organize tasks to be done, support each other, and counsel together. Of course, it can be a time to have fun, too! This time can easily be fit into your daily routine such as after dinner or over breakfast. However, it is so important that it is not interrupted, and your full focus is on your spouse. Give it a valiant effort, and you will be surprised at how much more connected you feel with your spouse during this challenging time.
3. Unplug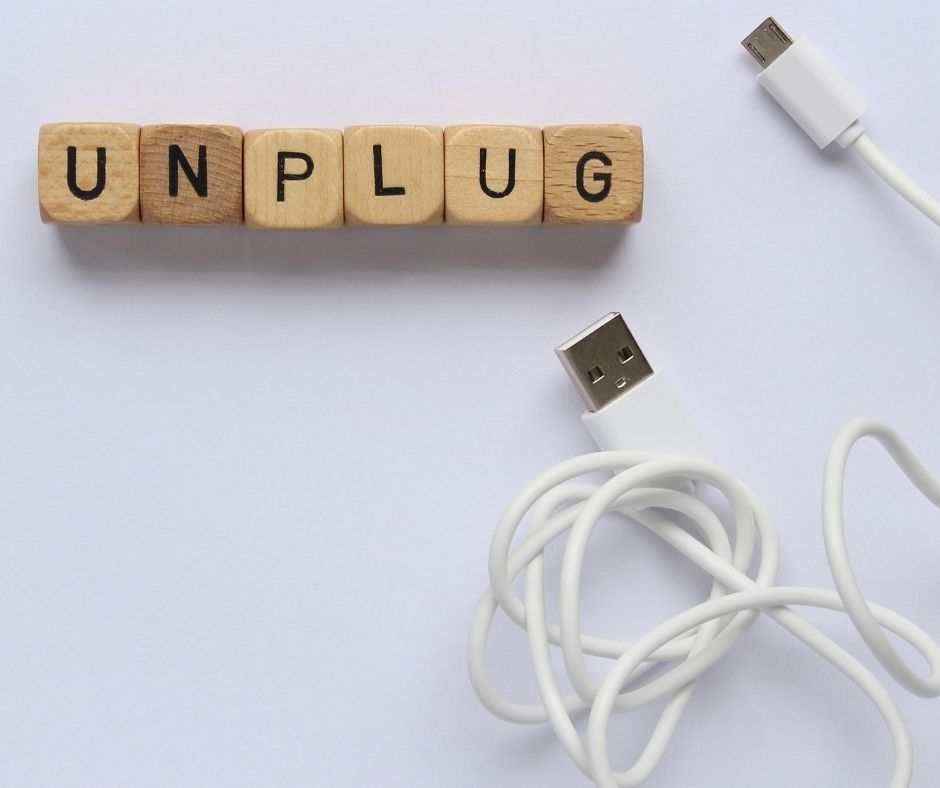 We live in a world right now that is consumed with technology, and sadly, this can become a barrier between husband and wife if it is not controlled. Just like having designated talk time, having time to unplug from technology will open up many opportunities to connect with your spouse. For example, instead of settling down at night to watch a show on TV, break out the deck of cards. Instead of listening to music in the car on the way to an appointment, turn off the radio and enjoy each other. Technology is all around us, and it can become a distraction without even realizing it. Putting our phones away, turning off the TV, and enjoying each other instead will be a great way to connect during the long days of adjusting to a baby.

4. Acts of Service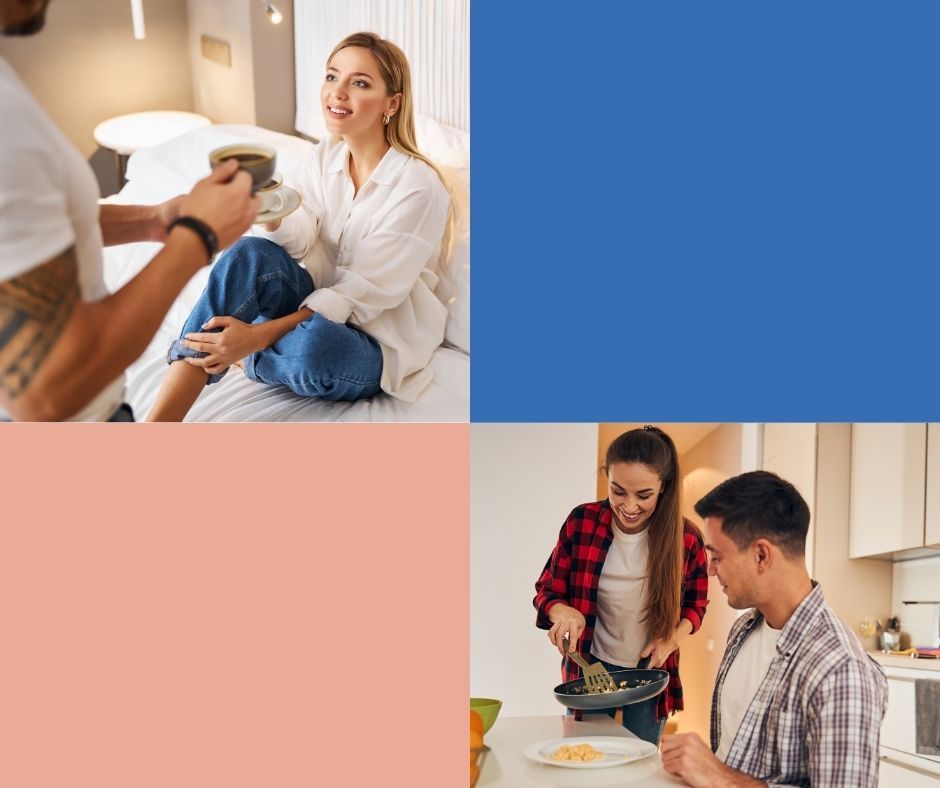 Doing an act of service for your spouse is a great way to say "I love you!" Your act of service does not have to be a grandiose effort. We all know how difficult it is to even get off the couch during those first postpartum days, or pull yourself out from under the covers after a sleepless night! However, taking a little time to do something extra can mean so much to your spouse. Here are some ideas: Transfer the laundry so your husband doesn't have wet socks in the morning. Wash out a bottle so your wife doesn't have to when her hands are full of a hungry baby. Send an encouraging text to your spouse reminding them of how great of a mom/dad they are. Say thank you for helping with the midnight feeding. You don't have to run a marathon for your spouse. The smallest acts of kindness are enough to remind them you are thinking of them, even when your mind is consumed by the demands of your little one.

5. Write a Love Note of Gratitude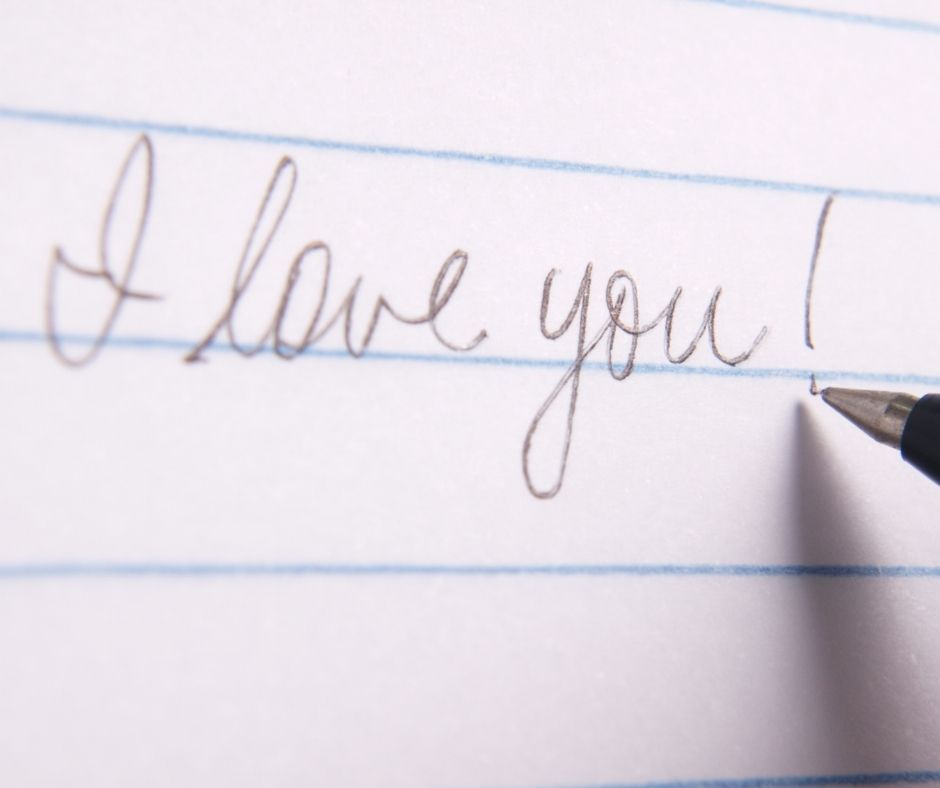 This is a perfect way to tell your spouse all of the things you are thinking but might not have the time or words to say. Short or long, your spouse will appreciate the effort and the reminder of your love and gratitude for them. Be specific. Write something like, "I am so grateful that you always bring me a glass of water to put by my bedside so I don't get thirsty in the middle of the night." Or you can say, "I am so grateful that you take the time to go to work each day to help provide for our family." Don't just say things like, "Thanks for the help!" Though this is a kind gesture, being specific will let your spouse know that you are aware of their efforts, and they mean something to you. As a bonus, you will likely see more of their efforts as a result of your expression of gratitude! What a great cycle!
6. Compliment your Spouse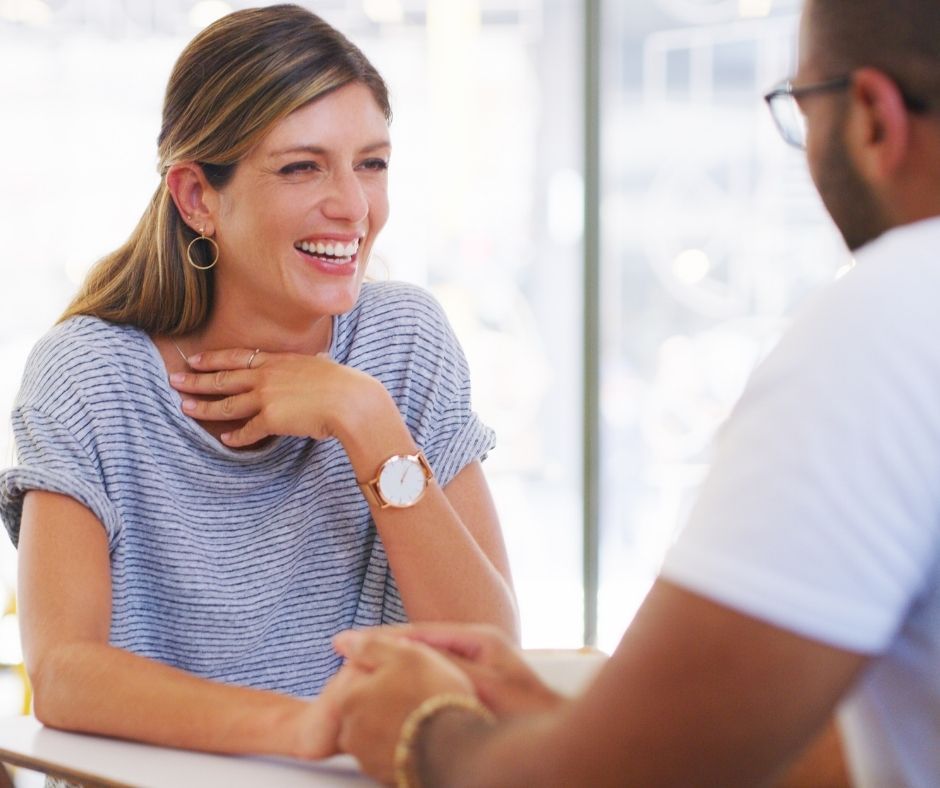 Remember when you were dating, and you would say things like, "I love that shirt on you! It is such a great color!" or "Wow, you look really pretty today!"? These kinds of compliments are ones that won your spouse over in the first place. Be flirtatious and make it fun! You can also compliment your spouse on their new parenting skills that you admire. "I love how gentle you are with our son. I always knew you'd be a good dad." Compliments are another subtle way of telling your spouse how much you love them while also fostering the bond you have together.

7. Find Other Ways to be Intimate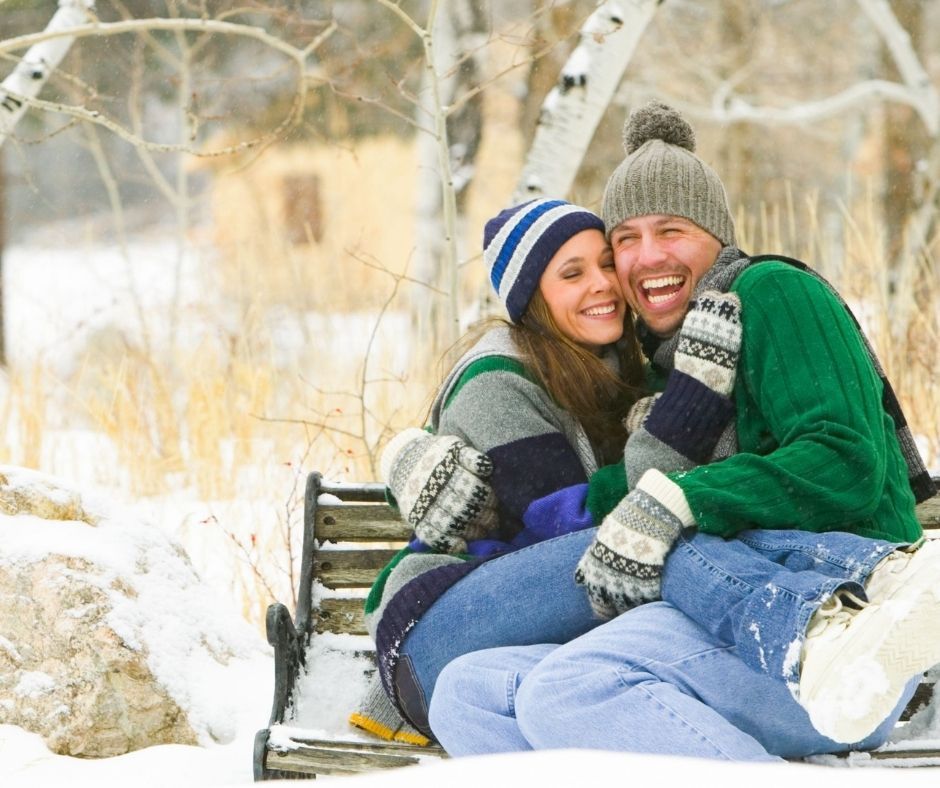 Usually, for 6 weeks after having a baby, the doctor will advise you and your spouse to take time to let the body heal by refraining from sexual intimacy. This can create a huge barrier between husband and wife, causing them to feel distant and disconnected. Even though one of the most common forms of connection is off limits, it doesn't mean you can't connect physically with your spouse as your body heals from birth. Find other ways to connect such as holding hands in the car, snuggling in bed at night, cuddling on the couch to watch your favorite show, or embrace in an intentional hug everyday. This may seem silly, but psychologist Matthew Hertenstein has studied the power of touch as a way of communicating emotions such as joy, love, gratitude, and sympathy (Chillot, 2013). Simple gestures such as rubbing your spouse's arm or resting your hand on their knee can communicate your love in a more subtle way. Finding different ways to be intimate can help you feel close and connected with your spouse until you are able to fully engage in intimacy again.
8. Work Together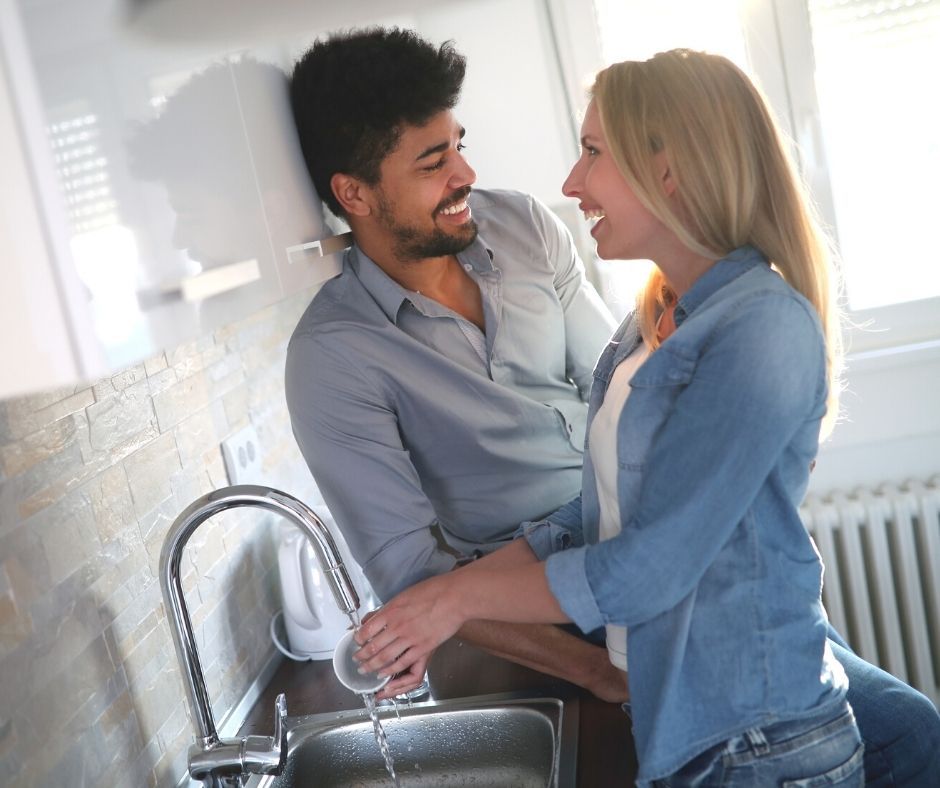 A lot can be said about working together as a way of connecting with your spouse. Sharing the task of loading the dishwasher or folding the laundry can lift any contention between you and your spouse as to who is responsible for what. Working together can create an environment and feeling of teamwork and trust that will help you feel connected. Spending time together to work also opens up opportunity to problem solve and communicate as well as time to laugh and have fun together. There are many benefits to working together as a couple that can help you feel connected during the stressful time of adjusting to your new baby.


Though these are only a few ideas, there are so many ways to connect to your spouse after having your baby. It is so important to take the time to foster your marriage especially when it is known that this stage of life can be very difficult. Bringing baby home can be a time of bliss and joy, but it can also come with some upsets. Putting forth an effort to keep your marriage strong through these hard times will create a strong foundation for your family to be built upon. Be creative, but always remember the importance of fostering your marriage as the most important relationship in your family.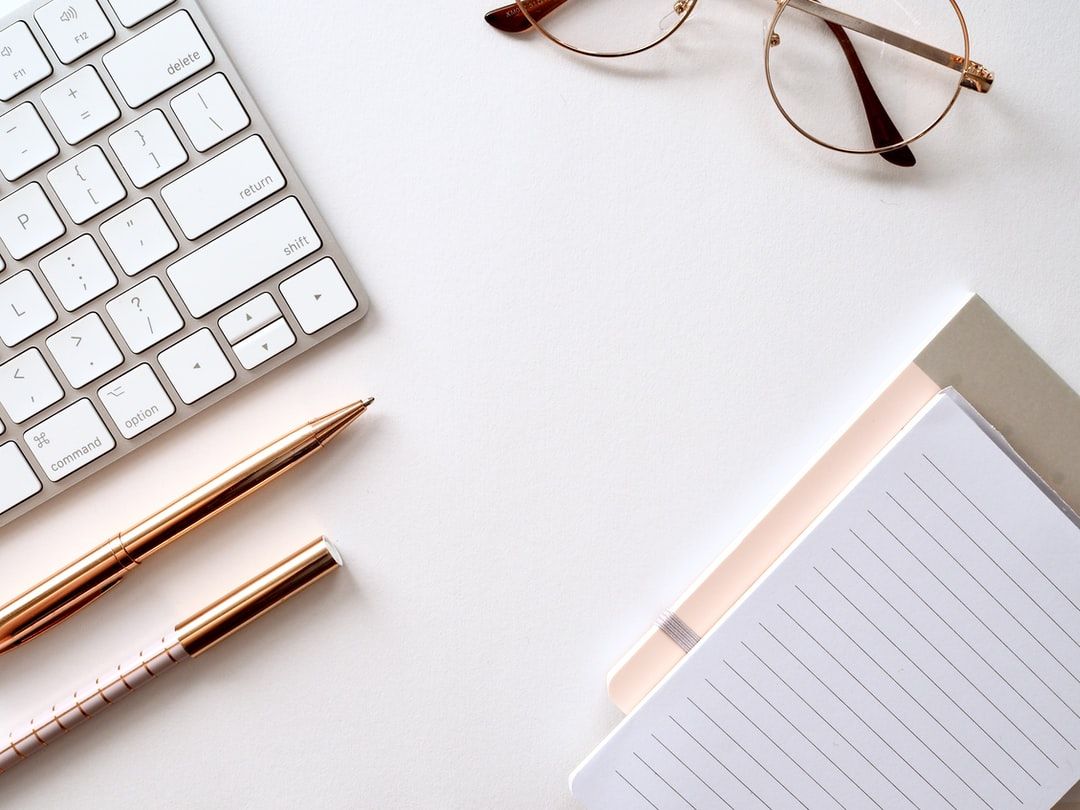 Subscribe now
Get our monthly newsletter right in your inbox!