Creating an Earth-Friendly and Sustainable Preschool Classroom, by Dr. Patty Born Selly
Producer: Fran Simon, M.Ed and Early Childhood Investigations Webinars

Presenter: Dr. Patty Born Selly

Credit: 2 training hours / 0.2 CEUs

Audience: Early Childhood Educators
Learning Outcomes
Students will define earth-friendly
Students will understand why environmental health is an issue of social justice and equity
Students will identify common environmental concerns that impact children
Students will assess their program setting to identify possible areas to improve environmental health
Students will identify tangible changes they can make.
Earn CEUs for training with Early Childhood Investigations Webinars
1. Create a Bertelsen Education account

2. Pay for the IACET CEUs

3. Take a short quiz

4. Download your certificate + CEUs

5. Access your certificate on your Bertelsen Education profile anytime
Partnering to Offer You More
Bertelsen Education has partnered with ECIW to offer you CEUs for your training! Attend the webinar from ECIW then take a CEU quiz through Bertelsen Education to earn IACET CEUs.
Frequently asked questions
When do I get my certificate + CEUs?
You will receive your certificate + CEUs immediately after finishing the quiz. You can download your certificate to your device. You can also view past certificates in the Achievements section of your profile page.
See Accessing a Certificate After Completing a Course below.
Accessing a Certificate After Completing a Quiz
Once you've received a certificate, it is saved to your Bertelsen Education profile, and you can go back to view or download it at any time.
Login using the username and password you created at checkout.

Choose View my profile and courses to go to your profile page.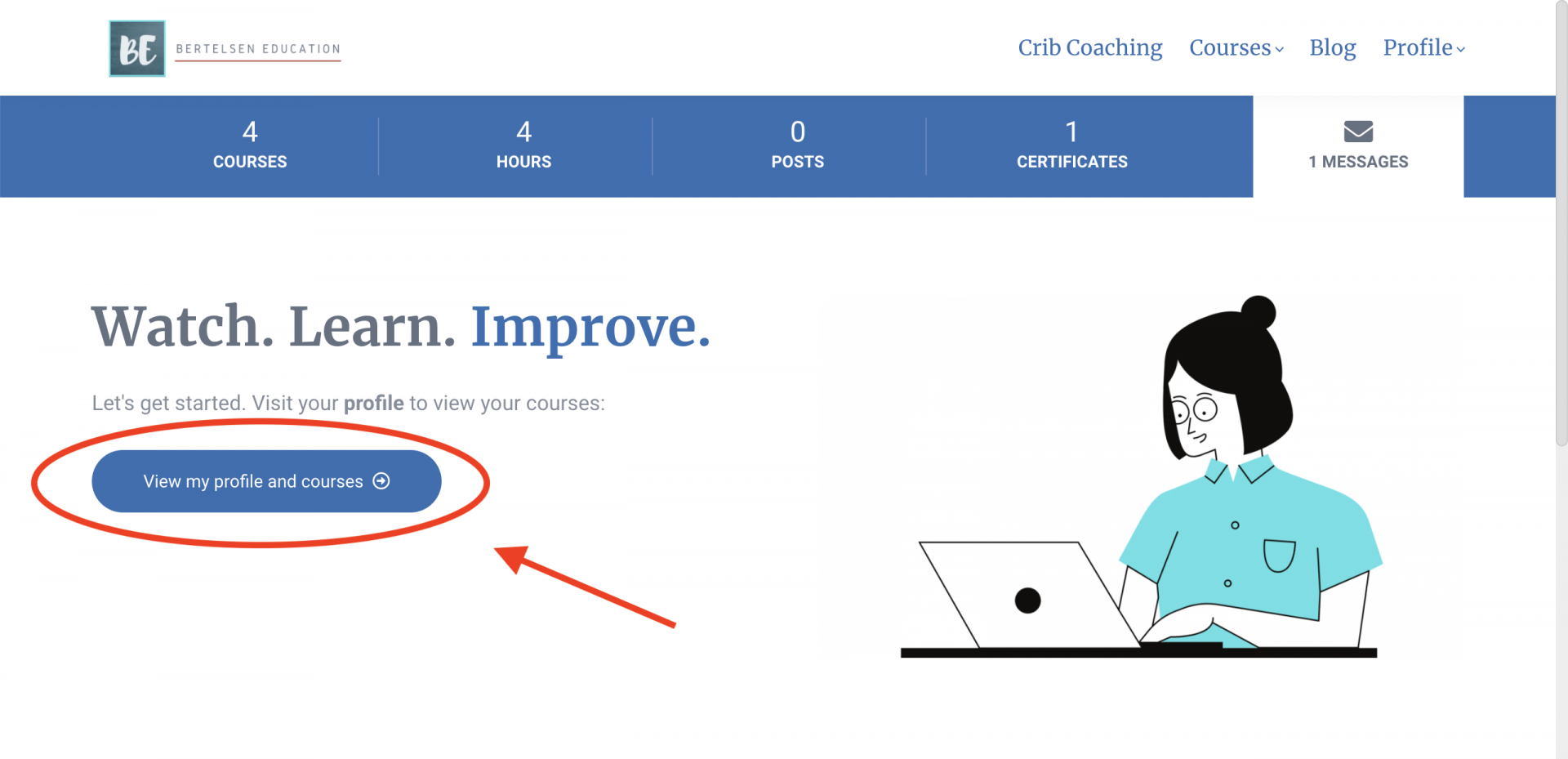 Scroll to Achievements section, find the blue trophy PDF icon with the course title.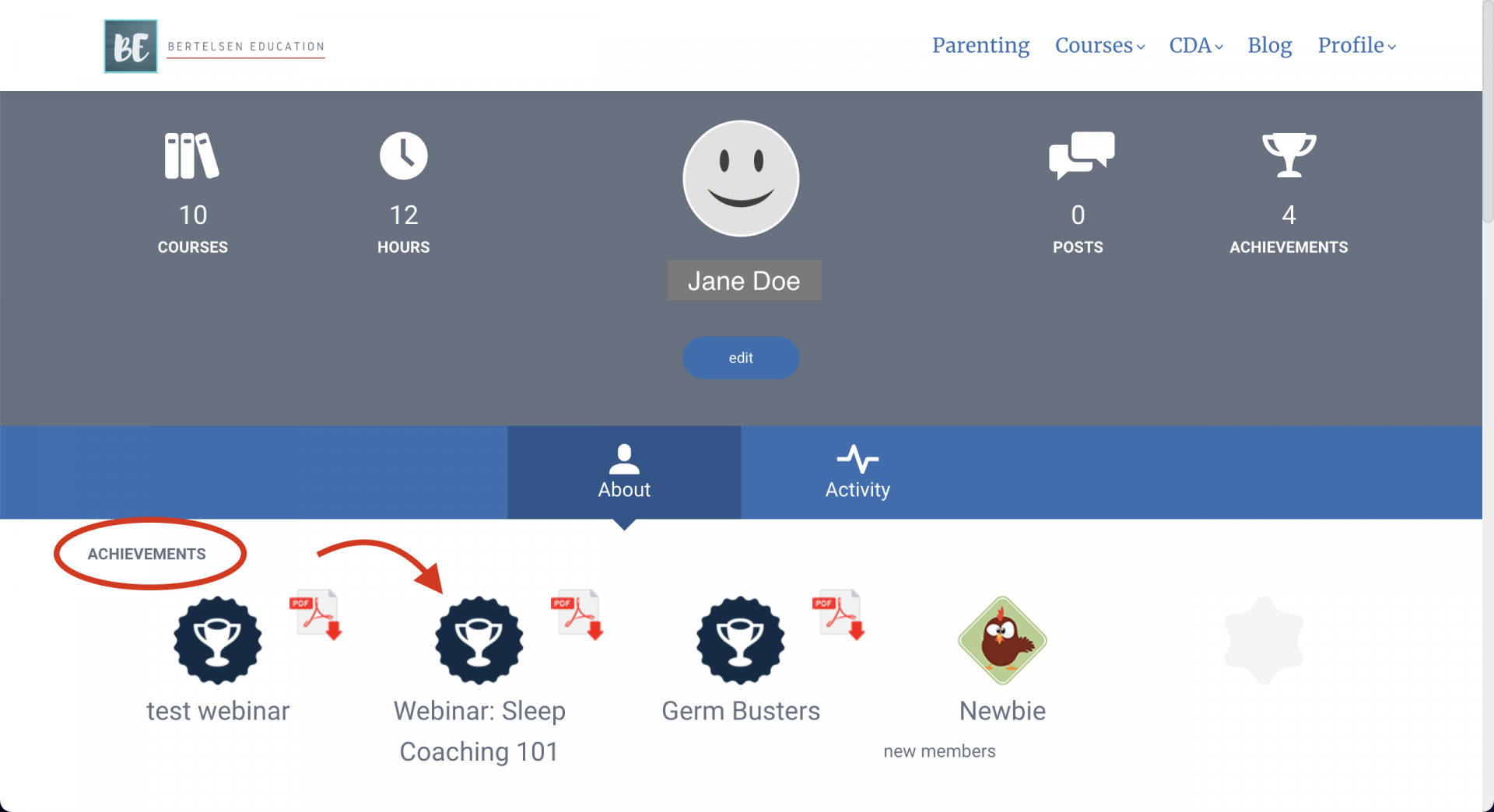 Click to download the certificate to your device.
Can I take the quiz on my phone or tablet?
Yes! Our quizzes are mobile friendly.
Can I purchase multiple Certificates + CEUs at one time?
Yes! We are happy to announce that, due to popular demand, we will now be offering bundles for centers and individuals who would like to pre-purchase multiple Certificates + CEUs. Pre-purchasing Certificates + CEUs will simplify group or center training and will allow individuals to pay upfront for multiple Certificates + CEUs.
To purchase a bundle of Certificates + CEUs
Complete this form that outlines how many Certificates + CEUs you would like to purchase before you attempt to get Certificates + CEUs
Receive and pay an invoice sent to your email
Receive a coupon code via email
Enter the coupon code at checkout to waive the $3 fee
Take the quiz and download your Certificate + CEUs
You must order a minimum of 10 Certificates + CEUs to use the pre-purchase option. The coupon code you receive will be valid for 12 months from the date of purchase. You cannot retroactively create group pricing, so be sure to pre-purchase Certificates + CEUs before attempting the quiz.
As a reminder, ECIW webinars will remain cost free, so if you do not need a Certificate + CEU, you will not need to pay any fees!
What if I still have questions?
If you have any questions or problems, email [email protected] and we'll respond within 3 business days.