Early Childhood Investigations Webinars

+
Earn IACET CEUs through Bertelsen Education for training from Early Childhood Investigations Webinars.
Learn with ECIW

Earn with Bertelsen Education
Partnering to imrpove ECE
How it Works
Attend a free webinar from Early Childhood Investigations Webinars. Follow the link at the end of the webinar to Bertelsen Education's website.

Pay only $3, take a short quiz, and receive your certificate and CEUs through Bertelsen Education.

You can always come back to view all of your certificates.

It's as simple as that.
The Early Childhood Investigations Mission
ECIW's goal is to offer free professional development opportunities that transcend the obstacles of distance, time, and money by offering conference-quality early childhood webinars.
ECIW wants to spark discussion in the early education community, and engage and motivate directors and teachers.
About ECIW
Early Childhood Investigations is an ongoing series of conference-quality free webinars for early childhood educators. The series is produced by Fran S. Simon, M.Ed., Chief Engagement Officer of Engagement Strategies, LLC. These engaging webinars are presented by many of the thought-leaders and experts in the field of early care and education. The webinars explore critical topics that offer new ideas and insights to early childhood professionals, especially administrators.
Of course, presenting free webinars would not be possible without sponsorship. ECIW could not make their webinar series work without the selfless contribution of content and time from presenters and the generous financial support of sponsors.
Collaboration: A Pillar of Bertelsen Education
At Bertelsen Education, we believe that the best work is created when we come together.
Better Access
Together, ECIW and Bertelsen Education are working to offer more trainings and certifications to more ECE professionals, taking the complexity out of professional development.
Collaboration Improves ECE
Bertelsen Education is excited to partner with quality professional development content producers—like Early Childhood Investigations Webinars—to offer CEUs to more students.
Frequently asked questions
Where can I attend the webinars?
You will register and attend the webinar through ECIW's
website
.
Who is giving me the certificate and CEU?
CEUs are granted by Bertelsen Education.
What training is offered?
Please see ECIW's website for a list of training offered.
How do I pay? How much does it cost?
You will pay before you take the CEU quiz. To pay you will need a credit card. If you do not have a credit card, follow the link below the sign up button for the quiz to fill out a form to pay another way.
What is your contact information?
Where can I find my certificate after I take the quiz?
Once you've received a certificate of completion, it is saved to your profile, and you can go back to view or download it at any time.
Login using the username and password you created at checkout.

Choose View my profile and courses to go to your profile page.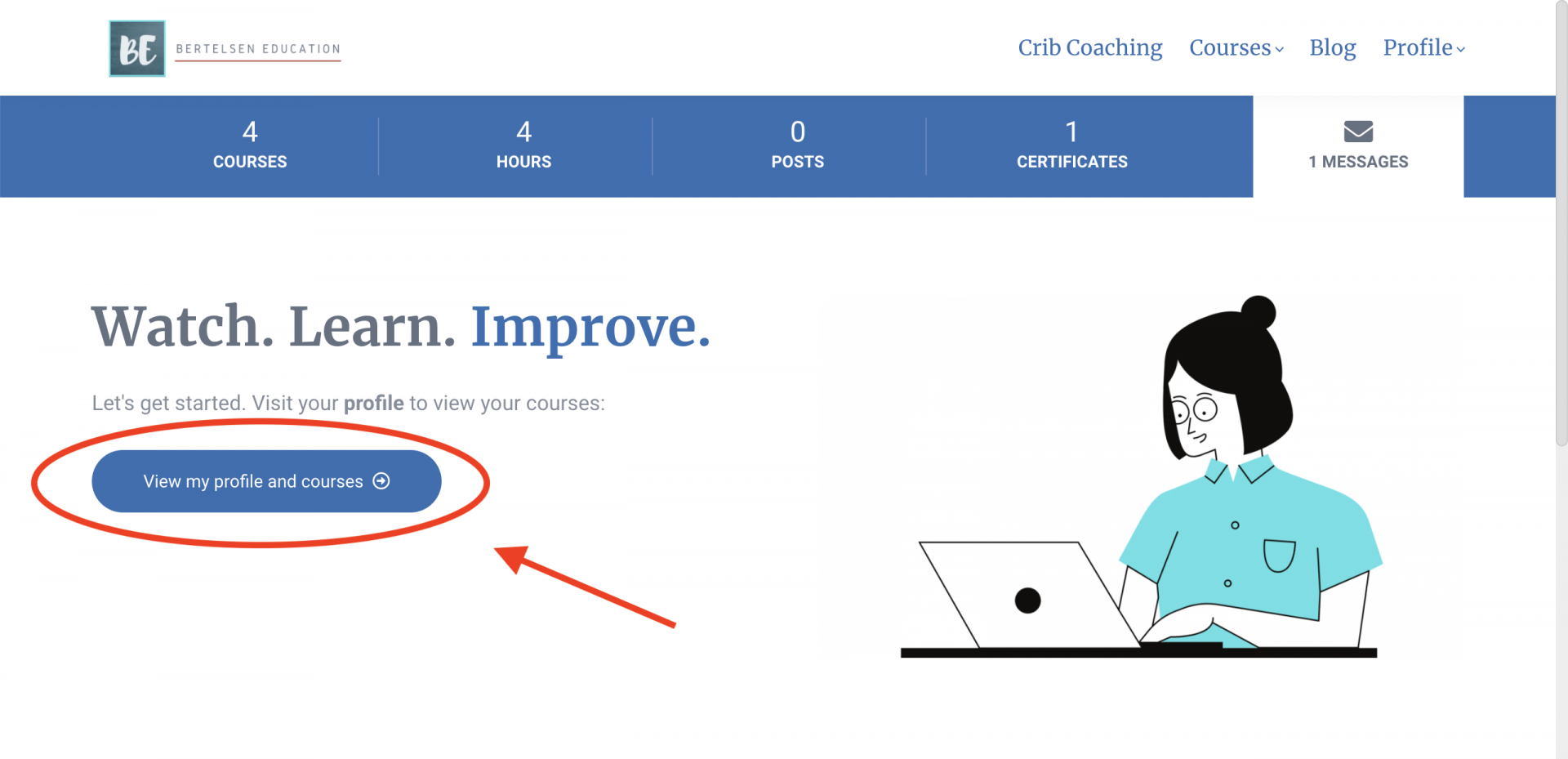 Scroll to Achievements section, find the blue trophy PDF icon with the course title.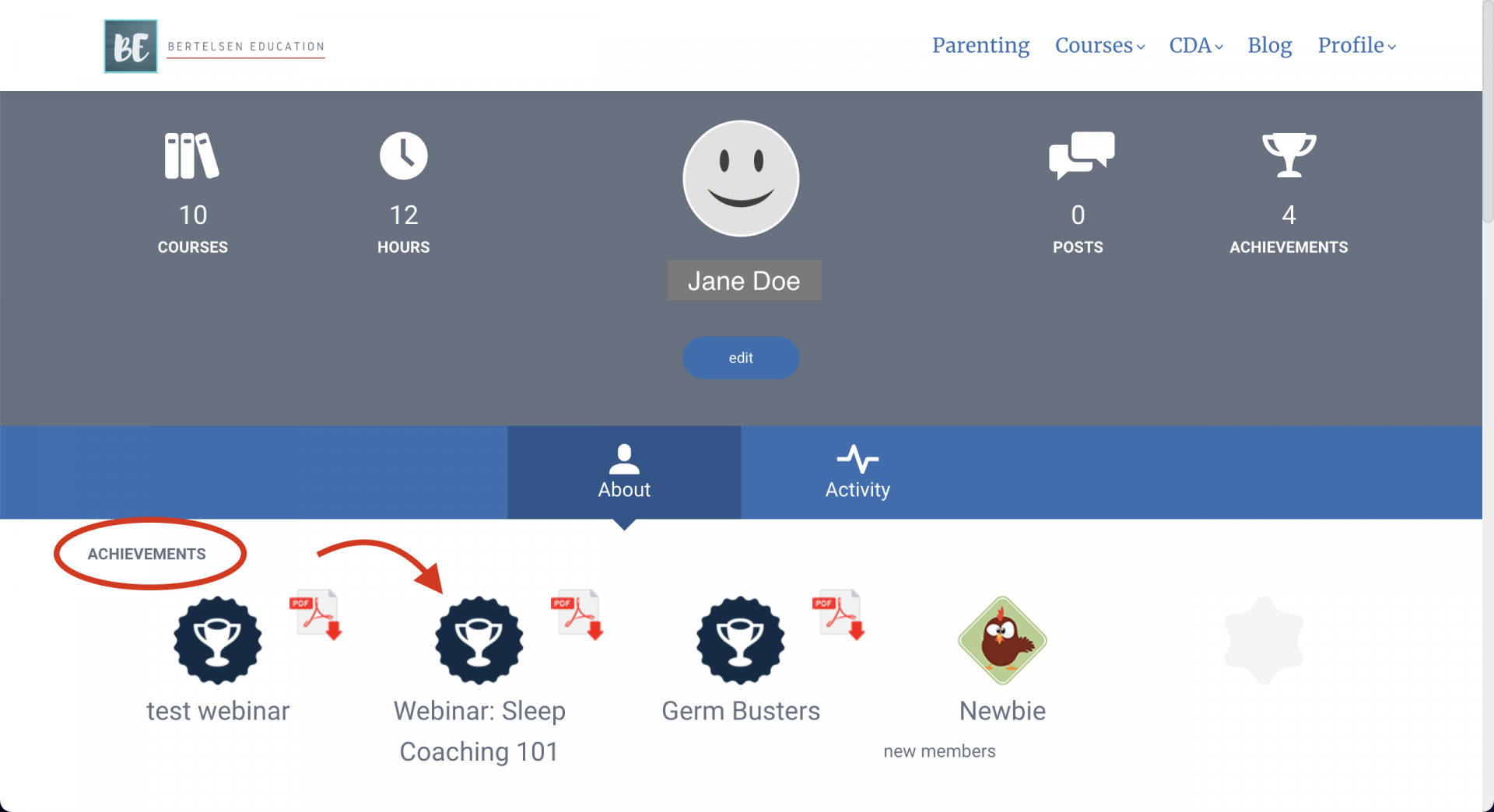 Click to download the certificate to your device.
Do these webinars with CEUs count for college credit?
The goal of the CEU is to ensure learners receive credit for professional development that meets standards of high quality learning and to articulate to college credit. But not every institute of higher education accepts CEUs. You should check with the college from which you want to earn your degree to be sure that they accept IACET-approved CEUs and under what circumstances they accept them.
Can I take the quiz if I'm not from the United States? How do I pay?
Yes! We use Stripe to process our payments and can accept most currencies.

When you create an account, just select "Other Country" for the State dropdown.
What if I don't need CEUs? What if I don't need a certificate?
If you don't need a certificate, then you won't need to take the quiz. If you don't need CEUs but still need a certificate you will still have to take the quiz to download your certificate.
Can I pay with a business card?
Can I pay for my whole staff?
Can I purchase multiple CEUs at one time?
Yes, yes and yes!

We offer bulk purchasing, which is ideal for purchasing the quiz for each of your staff members, or paying for a number of quizzes for one individual in advance.

See more information here.
If I fail the quiz, do I have to pay again?
No, the $3 only needs to be paid once.
Need Help?
Email us at with any questions, we'll respond within 2 business days.