Earn your CDA online with Bertelsen Education
Take courses to meet the training hour requirement and complete a portfolio course, all online on your own time!
What is a CDA?
The Child Development Associate® (CDA) Credential™ is the most widely recognized credential in early childhood education. It's a great way to advance your career in early childhood education. The CDA® is based on a core set of competency standards set by the Council for Professional Recognition that guide early childhood professionals toward becoming qualified educators of young children.
What are the steps to getting a CDA credential?
While Bertelsen Education provides coursework and the portfolio course, the CDA credential is issued by the CDA Council.
Our program allows you one year to complete these steps.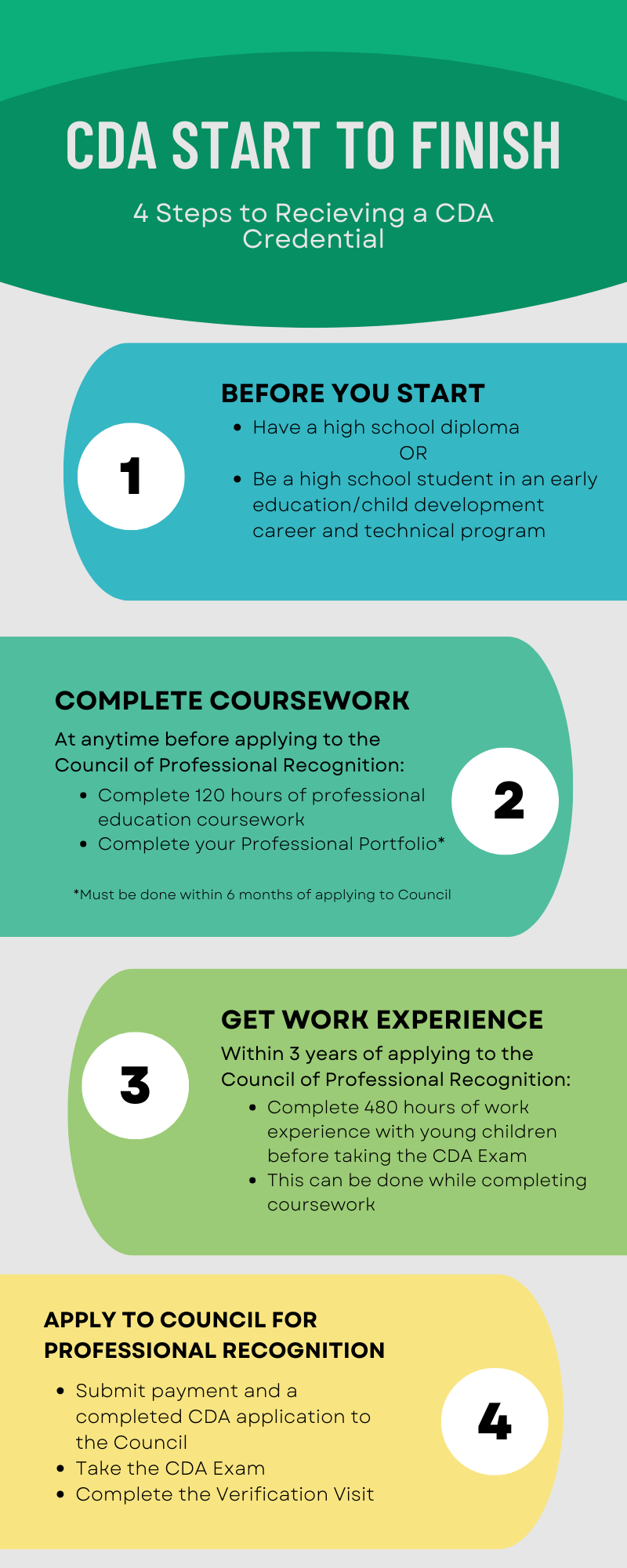 pricing
How much does it cost to get a CDA?
Bertelsen Education offers a CDA Curriculum Package, which gives you all the coursework and test prep you need for the CDA.


Note: The cost to get a CDA varies. Alternative funding sources and scholarships are available. Visit the CDA webpage to learn more about funding sources.
Our CDA Curriculum Package includes the following:
Coursework - 112 hours of training courses

Section review - 8 hours of review for each of the CDA subject areas

Test prep - 8 subject area test prep questions
* An additional $450 for a CDA workbook and the certification test is paid directly to Council for Professional Recognition
** Multiple teacher discount available. Contact [email protected] for more information and pricing
Frequently asked questions
Does Bertelsen Education award the CDA?
No. Bertelsen Education provides courses that fulfill the CDA requirements, as well as a portfolio course and general information about how to obtain a CDA.

The CDA is awarded by the Council for Professional Recognition. The Council will administer the final test and award the credential.
Who is eligible for a CDA?
To be eligible for the CDA credential, you must possess a high school diploma or its equivalent, although the organization now allows select third and fourth-year high school students opportunities to qualify. In addition to meeting educational and experience requirements, you must submit documented verification of your work with children.
How long does it take to get a CDA?
That's completely up to you! The CDA has 120 hours worth of coursework. If you work 5 hours a week, then it will take you 6 months to complete the coursework.

Although our courses are self-paced, you must complete all of your courses within 12 months.
There are different elements required to obtain a CDA credential, and each is paid to a different source. For reference, we've included typical costs in the table below:
Item

Who to purchase from

Cost

CDA Package - Coursework + Portfolio Course

Bertelsen Education

$375

CDA Competency Standards Workbook

CDA Council

$25

CDA Assessment

CDA Council

$425

$825
Do I need to have a computer to complete the courses?
No. Our courses are mobile friendly! You can complete coursework on any device - desktop, tablet or smartphone.
What is the Verification Visit?
The Verification Visit is conducted by the CDA Council. This is where someone from the CDA Council will observe you working with children.
How long is a CDA good for?
The CDA Credential must be renewed every 3 years.
CDA Curriculum Pathway
View required courses and exams that you will take as part of our CDA Curriculum Package.
You can also download a PDF of our CDA Pathway using the button below.
Want to learn more about our CDA Package?
Sign up below.
Thanks! We'll reach out with more information.